"You and the band surpassed our expectations and then some - the play list was spot on - you read the crowd and gave them what they wanted and I think there were times that you actually gave them what they DIDN'T even KNOW they wanted judging from the folks that I saw up there on the dance floor!"


See us on
The Knot
Wedding Guide site
We had heard the Mike Dumas Band at a friend's wedding and afterwards decided they were the one. They got the party started and kept it going until the very end. They have a large repertoire so there was something to get everyone dancing! Would definitely recommend to anyone!
---
JOIN US FOR A SUNSET
CRUISE
Sat. Sept. 12
Click poster...


Call 508-362-2909




MIKE DUMAS ENTERTAINMENT



70s style dance band...disco, etc.

AND

The Satellite Band ("boomer" rock)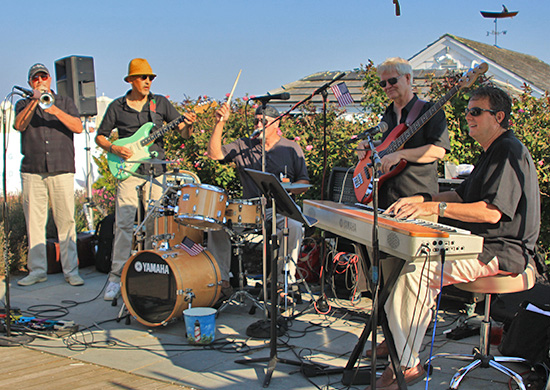 The Mike Dumas Band with the Hollywood Horns and Platform Soul combine the best of both worlds.

The Platform Soul focus is high energy dance while the Mike Dumas Band in Tuxedo Attire mixes jazz, swing, classic rock, as well as all the party tunes from the Platform Soul playlist.

If it's a night on the town, you'll find the Platform Soul Show ... one of New England's best picks. This tight Chicago horn lineup is the very best around ... and the soul driven beat from this rhythm section puts fire in your feet!

Whatever you are looking for ... Wedding Reception, Corporate, Private, Theme Style Party or Nightclub ... this organization delivers!

The Mike Dumas Band has performed all over the United States and now calls Cape Cod home. Most performances are within the greater Northeast, but you are likely to find this band anywhere in the winter months ... from Stowe, VT to Key West, FL.



Geffen Management
P.O. Box 722
Centerville, MA 02632
508.771.6836
Email: mike@mikedumasband.com